Dear Readers,
Chapter 20 will start next week. In the meantime, I have a humble request. You may have noticed that sometime during the last chapter, ads stopped appearing on After the Dream. That's because the service I was using, Project Wonderful, closed its doors. The revenue it was bringing in was fairly minimal, so I'm not too worried about that. It was, however, my main way of attracting new readers, since I also used it to advertise on other sites.
What I'm asking of you is to take a moment to help spread the word on your own. Please consider giving us a Facebook (or other social media) like or mention, posting a link on a forum you frequent, or just e-mailing or showing the site to some friends. You can also use the link on the right to vote for After the Dream daily on Top Web Comics, which gives the site better visibility.
Thanks for your support, and stayed tuned until Monday for the next chapter!
With appreciation,
Jeremy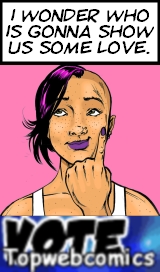 other projects you might like:
Fighting for G.O.D. (Gold, Oil, and Drugs)
This is Jeremy's first graphic novel. If you ever wanted to know how bankers, clandestine intelligence agencies, and crooked corporations came to rule America, this is a great place to start.
This is Jeremy's streamlined presentation of the events that they left out of your history books in high school. Learn about black ops, corporate crime, secret cults, and more!
Preview Jeremy's upcoming comic book series about a girl and her robot on a planet full of giant alien fungus monsters!
all content copyright 2000 - 2018 Jeremy Begin